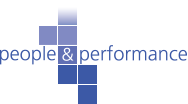 We provide business focused strategic HR consultancy to Directors and Senior Managers mainly in the public and voluntary sector.
We are strategic HR professionals with experience of leading the delivery of customer focused HR Services in the public sector and of delivering high level HR consultancy support either on specific business critical projects or in a developmental mentoring role in the public and voluntary sectors.
All of our assignments are delivered utilising project management techniques. This ensures all projects are delivered to an agreed timescale, specification and budgets. A specification is usually agreed for each assignment, and for longer projects a clear project plan is developed and regular project updates provided.
At People & Performance, we focus on the people aspects of service delivery, believing that improving each individual's performance results in greater organisational performance.




Performance Management - Improving your organisations effectiveness.

See how the London Wildlife Trust benefitted from a simple and effective performance management system.

Chief Executive Recruitment - ensure you get the right person for that top
job.

See how People and Performance helped a County Council develop its recruitment strategy.